Anyone hungry? I'm making Chihuahua soup tonight for dinner! You're welcome to come!


I've had my dog Cinderella Louisa, aka Cindy Lou, for about 5-6 years now. She was the light of my life, I loved this pup more than anything. Then Austin came along, and well, we all know how that goes. Cindy went to the wayside a little.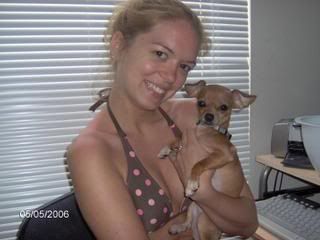 She's a great dog to have around because she loves me and loves Austin. She doesn't get mad when Austin pulls her ears too hard or steals her old spot in the bed at nap times. She doesn't bark for no reason and she listens pretty well.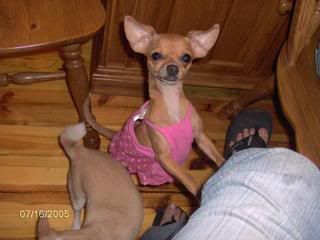 BUT


This dog poops and pees wherever she wants.


When we first moved to the apartment she was gated in the kitchen and used the puppy pads perfectly fine. But I have started to let her out in the whole apartment with us because she IS a part of our family, and she was being neglected. Well now she poops in the dining room. It's gross and I HATE IT. I moved her puppy pad in there hoping she would use it and not the carpet, but she refuses.


We rearranged the house a little bit and now the dining room is a play area for Austin. I poured hot bleached Rockin Green Soap water all over the carpet to get rid of the yucky pee smells. Worked okay. And I figured once we started playing in there she wouldn't use the bathroom in there because it is a high traffic area.


Yeah, that was a nice thought…


I need to get a new gate (plastic, that opens like a door, that she can't climb over or chew her way through = way more money than I want to spend…) I guess and put her back into the kitchen or a bathroom. I'm just so annoyed. Why can't she just go where she is supposed to?! And now that she is used to being with us 100% of the time she's going to cry and cry all night when she's locked up. UGH. It's such a pain.


Has anyone else had this problem? What did you do?! I swear if I find Austin with dog poop in his mouth one day I will have chihuahua soup for days…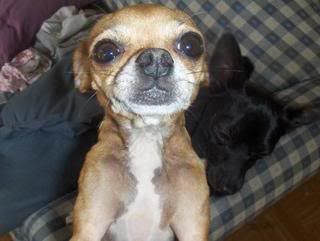 Please click here to vote for us in Top Mommy Blogs! If I get enough votes I may spare Cindy's life! Thanks!