Austin has the dreaded RSV. It's so so sad!


He has had a little cough for a few days. Then early Christmas morning around 4am I woke up to a little ball of fire laying next to me. I gave him a dose of Tylenol. He opened presents and seemed fine that morning, but a little tired. He eventually got worse and by the evening I had used his inhaler twice and the doctor told me to call if I had to use it more than 2 times. He was breathing really hard and wheezing really bad, so I called up the ol' ped answering service and spoke with a nurse.


So Christmas night we were in the ER. Austin had a temp of 102.7! He had a breathing treatment and chest xray and we headed home.


This morning I took him to the pediatrician for a follow up. He had another breathing treatment and was tested for flu and RSV. Thankfully the flu was negative, but RSV was not. He was also diagnosed with Bronchiolitis, which I had when I was his age. It's basically asthma, but they don't call it asthma until 2 years old. His bronchioles are sensitive and react to things like smoke, pet dander, dust, etc and cause him to wheeze, cough, and have a hard time breathing.


We were given another prescription of his inhaler in case we ran out of what we have now, were upped to 4 puffs every 4 hours (I even have to wake him up all night!), a steroid prescription to help open his airways, lots of rest and relaxation, tylenol and motrin for his fever, lots of nasal aspirating, and kisses galore.


Tomorrow morning we go back so they can check him out again. I am really really glad they're keeping such a close eye on him!


Christmas night in the ER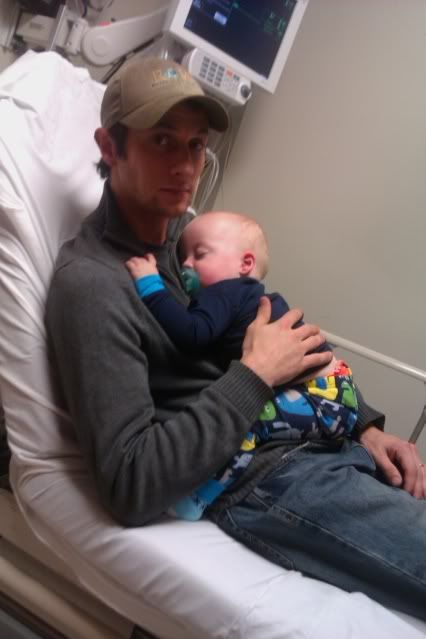 Thanks for the PJs Aunt Cassie!

Look how awfully sick my poor baby looks! It snowed yesterday for a few hours and we had to go out and check it out for a couple of minutes at least!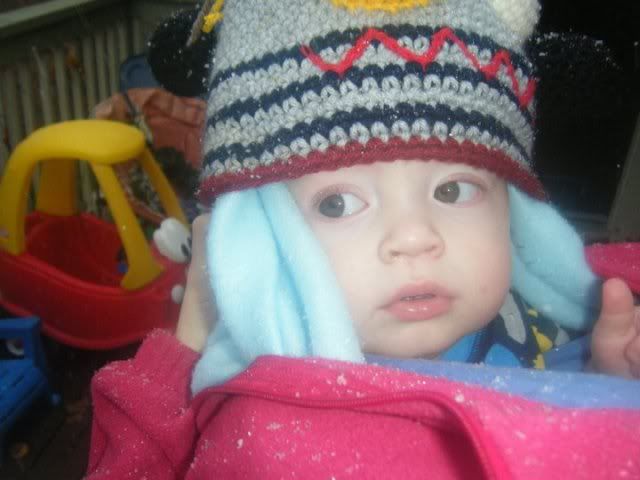 And here he is getting his breathing treatment today! He barely fought it, he is giving up poor thing. He's had so much done to him the last few days, when I lay him down he freaks out thinking something is going to go in his butt, ear, mouth, or nose! :(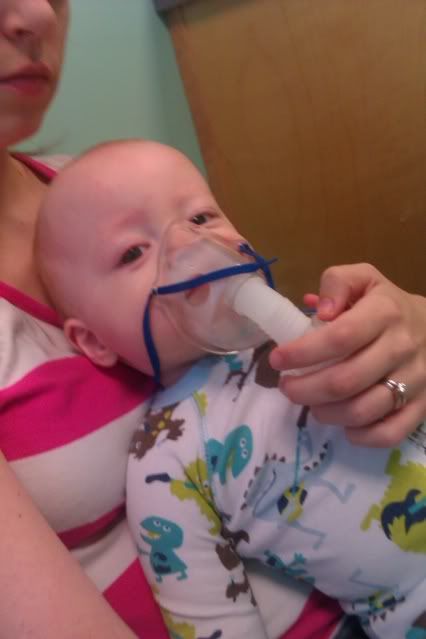 Lots of prayers for my poor sweet boy! We got a humidifier (thanks Daddy!) and all the meds. I plan on getting some breastmilk up that nose tomorrow when he's really congested. Thankfully he'd been draining a lot since that breathing treatment at the peds' office. I know RSV is common, but it's still scary when it's your baby going through it!!! I know he'll be fine, but I hate that he feels bad. He has been fever free for a few hours now though, so hopefully we broke it and he'll start feeling better ASAP!!!